Metal Roofing Technologies
ABC Seamless of Worthington is also an installer of Steel Roofing Systems.
The initial cost of installing a Steel Roof may be more than with other roofing materials. However, the money a homeowner can save is significant, because that roof will be the last roof you ever buy. A Steel Roof adds to your home's beauty and to its resale value. Finally, insurance companies in many states will lower your homeowner's insurance premiums by as much as 35% due to the proven protection of a Steel Roof.
The average life of a non-steel roof is approximately 17 years. For example, asphalt, or "composition" shingles can require re-roofing every 10 to 20 years or sooner! Compare that with a Steel Roof that includes a warranty that is good for the lifetime of the owner (transferable).
Life is hard. Mother Nature is harder, especially on non-steel roofing materials which begin to deteriorate immediately after they are installed from exposure to damaging ultraviolet rays of the sun, expansion and contraction as a result of temperature changes and the effect of hailstones, heavy snow pack, ice and wind. A Steel Roof, however, can take extreme weather conditions and still look and protect like new for a lifetime.
There's more to the beautiful colors and designs of a Steel Roof than meets the eye. For example, the lighter-colored roofs are designed to effectively reflect the sun's heat and reduce the need to cool your home during the hot summer months.
Steel roofs come with impressive warranties including a 120 m.p.h. Wind Warranty, a 2.5 inch Hailstone Warranty and a Non-Prorated Warranty for the Lifetime of its Owner (transferable).
Commercial quality roofing enhances curb appeal and resale value
Transferable Non Pro-Rated Lifetime warranty
Energy Efficient * Non-combustable steel
Shorter installation time
Half the weight of wood shakes
Warranted against 2.4" hail stones
Guaranteed not to crack, curl or rot
Warranted against winds of up to 120 mph
May reduce insurance premiums
May qualify for energy savings rebates and/or credits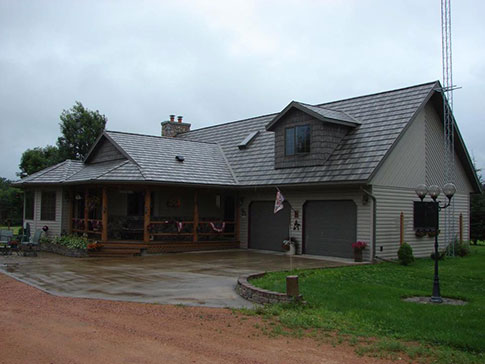 Steel Shingles
ABC Premium Metal Roofing locks out the harshest of weather conditions. Permanent and virtually maintenance-free, Metal Roofing will last for years to come without incurring typical upkeep expenses.
ABC Seamless Premium Metal Roofing is the last roof that your home will ever need. Our steel shingles protect your home in any climate and disaster, proven by Fire, Wind, Fade and Impact ratings. Surpassing the best asphalt shingles in every way, upgrading to a steel shingle will increase the resale value of your home and put your mind at ease when a nasty storm rolls through your area. Your home will avoid leaking roof problems caused by hailstorms. At the same time, our premium steel shingles also save you energy. Many of our roofing colors bare the EnergyStar name, utilizing Cool Paint technology to protect your heating bills from radiant energy waste.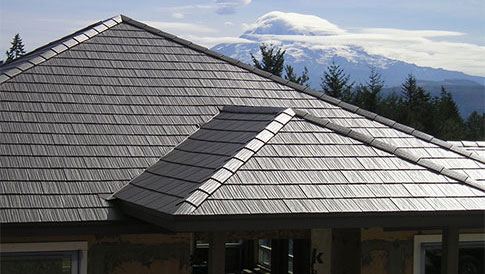 Metal Shingle Shake Roofing
From light commercial to residential applications, Metal Shingle Shakes are the next wave in roofing and siding. Permanent and virtually maintenance-free, Metal Shingle Shakes will last for years to come without incurring typical upkeep expenses. Additionally, most metal roofing, including standing seam, is composed of recycled material and can be installed directly onto an existing asphalt roof, reducing landfill waste and promoting quick installation as well as decades of environmentally-sound, maintenance-free strength and beauty. Coated with a deluxe Kynar 500® finish to maximize color retention, Metal Shingle Shakes are available in a full range of 15 standard colors and 4 blend colors.
Features:
Unique 4-way interlocking system withstands winds in excess of 100 mph, and has the best hail rating available.
28 gauge galvanized steel.
Unlike traditional roofing products, Metal Shingle Shakes will not warp, split, peel or crack.
Unique double embossing pattern adds panel strength that are strong enough to be walked on and can be applied over an existing roof.
Permanent and virtually maintenance-free, a Metal Shingle Shake roof will last for years to come without incurring typical upkeep expenses.
 
Metal Slate Roofing
Nothing lasts longer with lower maintenance than a Metal Slate Roof. Combining slate's old-world charm and the unsurpassed performance of steel, a Metal Slate roof adds ageless beauty and a distinctive elegance to any home. Metal Slate is coated with Kynar 500®, the industry's premium finish, which is corrosion-resistant, withstands even the harshest outdoor conditions and has superior color retention. Available in 4 standard colors and 3 blend colors to complement new homes as well as remodeling projects.
Features:
Unique 4-way interlocking system withstands winds up to 160 mph, and has the best hail rating available.
28 gauge galvanized steel.
Withstands severe weather changes free from unsightly panel distortion, breakage or 'shedding' like traditional slate materials.
Virtually maintenance-free. It won't chip, peel, rot, blister, rust, shed or fade.
Provides a clean, distinctive look that vastly improves the appearance of your home or building.
 
Above all, you need a GOOD roof! Why waste time and hard-earned dollars on roofing products guaranteed to fail?